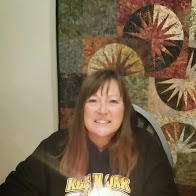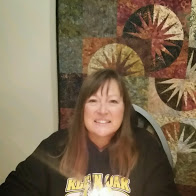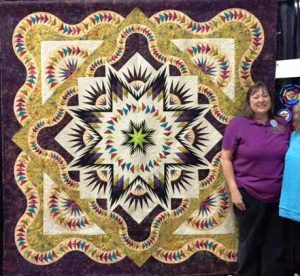 My wife, Valerie Wagner began quilting as a teenager, watching her grandmother create beautiful quilts, mostly cutting and sewing small scraps all in her lap with cereal box cardboard templates.  The art of quilting has come a long way since then!  Valerie enjoys piecing her own tops, but longarm quilting is her passion.  Valerie creates all the custom hand guided, longarm quilting services on her 22″ Innova and also quilts computerized edge to edge and custom designs  with Mach 3 Auto Pilot system.  She would love to quilt for you!  Valerie is an award winning custom longarm quilter including awards for Best of Show and for Best Machine Quilting, with clients competing in local, regional and national shows.  She enjoys quilting all types of quilts including baby quilts, everyday use quilts up to your most treasured heirlooms.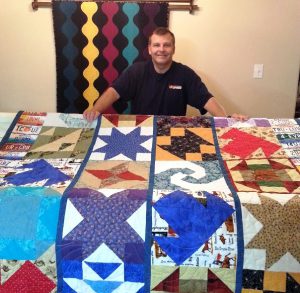 My husband, Bob Wagner has recently left the corporate world, seeking new employment but in the interim has joined me in learning all about edge to edge computer quilting.  Bob has dedicated his life to serving his country as a reservist with the Air National Guard and is currently the Medical Group Commander for the 164th Airlift Wing in the Tennessee Air National Guard and on December 7th the Senate confirmed his promotion to the rank of Colonel.  With my guidance, he has become very proficient in design choices and set up for edge to edge computer guided quilting however at this time he is pursuing other options.  But I do have backup assistance if I ever need it!
We have 4 boys, 5 grandchildren (4 girls and 1 boy) and 3 grandbaby dogs.  Pictured below is a recent birthday celebration for me with 2 of the youngest sons.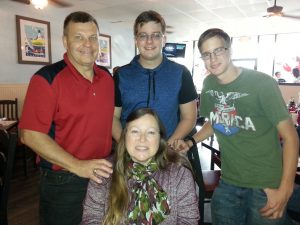 My Studio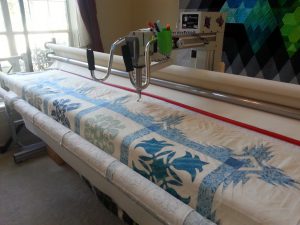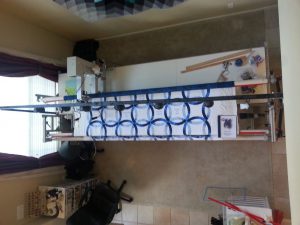 My  22″ handguided and computerized Innova on a 12′ frame can accommodate most king size quilts up to 125″ wide backings and is my freehand and computer guided longarm complete with an electric lift that allows me to adjust the height throughout the day as I'm working.   I call her "Pearl" for  "The Black Pearl".  As of August 2019 I am only offering computerized edge to edge designs.
I carry  primarily Quilters Dream products.   My go to batting is Quilters Dream 80/20 but other favorites are Quilters Dream Wool 120″ roll and Quilters Dream Blend 70/30 93″ roll.   I do stock a few Quilters Dream Puff, QD midnight black poly as well as some cotton on hand.
I carry several brands of threads to compliment your quilt.  I have an extensive line of Glide and So Fine threads as my main threads used but also carry many thread colors from King Tut, Omni, Fantastico, Magnifico, Invisifil and Aurifil lines for your custom quilting needs.
Please note my studio is in our home that we share with a cat and dog. While they are not touching your quilts, I do touch them!